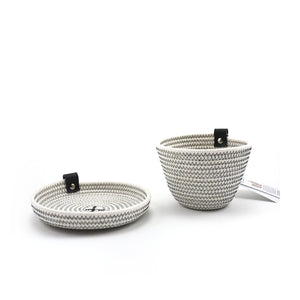 Thise mini Bowls come in two sizes high and low.
Use these mini bowls to store your cotton swabs, lipsticks, tweezers, Jewellery, there are just endlless possibilities.
The bowls are made exclusively of high quality, Belgian produced recycled cotton cord. A single long piece is used to create and shape each bowl, using a simple zigzag stitch. Clever color choices will bring about many distinctive designs, and as a little extra twist, the end of the cord is always finished with a beautiful leather strap.
Since each basket is made to order, it can always be slightly different from the one on the photo.
Sizes:
High : dia 10 cm x h 8 cm
Low : dia 15 cm x h 2 cm
Klantenreviews
Mini Bowl
Handig en het staat leuk in de badkamer
08-25-2021
Audrey B.

Belgium
Top mais …
Bonjour, Les paniers sont superbes. Par contre, ils ont une odeur d'humidité qui a du mal à partir.