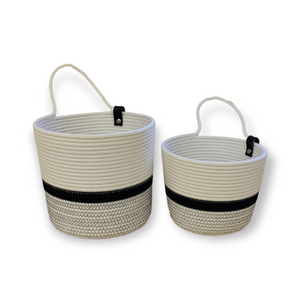 Hanging Storage Basket.
Functional cute basket, use it to hold various items such as onions, herbplants, fruit, make-up, sun creme... . The hanging baskets can decorate living room, kitchen, bathroom and bedroom. 

They come in two sizes
Small : dia 11.5 cm bottom - 16.5cm and 13cm high
Medium : Dia 15.5 cm bottom - 19.5cm and 17cm high
The bowls are made exclusively of high quality, Belgian produced recycled cotton cord. A single long piece is used to create and shape each bowl, using a simple zigzag stitch. Clever color choices will bring about many distinctive designs, and as a little extra twist, the end of the cord is always finished with a beautiful leather strap.
Since each basket is made to order, it can always be slightly different from the one on the photo.